Time for Faith's Christmas Card Carousel!
Click on the button below to join us!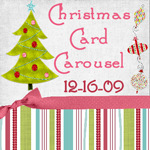 I love sending and receiving cards every year...it always makes me smile to open up the mailbox and see something other than a water bill.
Just like last year, I had printing issues. I actually had our pic taken and card designed way early this year...I was very proud of myself. But like the good ole book says...
pride cometh before the fall
. I even used a different printer this year, so I'm thinking God is just trying to teach me patience.
And to not sweat the small stuff.
And lots of other things...but that's an entirely different post.
I went to pick up my cards and the guy couldn't find them. I had ordered them days before, so I guess they lost my order and they were never printed. I've decided to do something that I would have NEVER DREAMED OF DOING BEFORE. I'm going to share our Christmas card BEFORE I put them in the mail.
*GASP*
I'm tellin' ya, having a baby just puts a lot of things in perspective...like who cares if someone sees our Christmas card online before they see it in their mailbox. I'm doing good to write this post and to get a bath - let alone get cards in the mail. So those of you on my Christmas card list...this is what you will be receiving soon.
As long as the printer decides to print them. :)
It makes my heart happy to look at this card. I think we all know why. :)
Wishing you a very Merry Christmas and a Blessed New Year!
Love to all,