My sweet friend, Faith, is hosting her annual Christmas Card Carousel! Click on the image below and link up!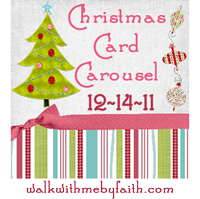 I love going to the mailbox this time of year and opening cards from friends and family. I've received some of the cutest cards this year! I think this is the most simple of cards I've ever sent out, but it's also one of my favorites, and simple goes right along with how I've kept things this Christmas season. We had a little photo shoot with my SIL, Sara, right after Thanksgiving. I think she did a great job and we got some really cute pics of our sweet girl. I'm sure some of my cards are still in transit - so for my family and friends that haven't received yours yet - this will be what you find in your mailbox any day now.
Click on card to enlarge.
For to us a child is born, to us a son is given; and the government shall be upon his shoulder, and his name shall be called Wonderful Counselor, Mighty God, Everlasting Father, Prince of Peace. -Isaiah 9:6
Merry Christmas from The Averitt Fam!
Love to all,